Your Trees and Shrubs Need Love Too.
Protect Your Investment!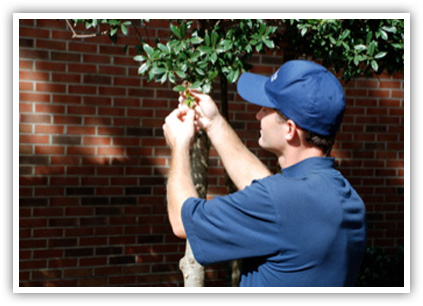 What makes our Tree and Shrub program different from other programs being offered today? For starters, our 100% Natural Fertilizers, alongside our Organic Insect Control, are sure to create "A Difference You Can See".
Tree and Shrub care, like lawn care, is an ongoing process and should not be neglected or overlooked. Healthy, well maintained plants, like a well maintained lawn, need little or no pesticides to stay green and strong during difficult weather conditions. Our trained environmental specialists maintain the beauty of your landscape by incorporating the latest methods for examining your plants. With each service visit, you will receive a target list of insects and disease issues that we are monitoring, with a specific course of action attached to your service receipt. The goal and promise are to provide the highest quality products available today, with an eco friendly approach to tree and shrub care, in keeping with our company's goal to reduce the use of synthetic pesticides.
---

In the national lawn care market, Weed Pro® Lawn Care is proud to present an Organic alternative for insect control and insect infestations. This one of a kind product is exclusive to our franchise, and we have developed stringent specifications for its production. This is an all natural, safe organic oil spray that is effective on a wide variety of insects and certain fungal diseases. The benefit of this versatile control product is that it replaces many "Hard" Pesticides with No Re-Entry Time Required. We offer it with total confidence. Your satisfaction is guaranteed, or we'll retreat the problem for free.